Wan Yuan Senior Companionship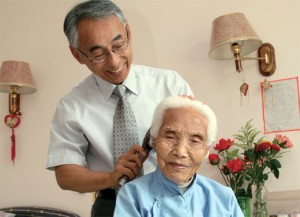 In conjuncture with New Path Foundation, Wan Yuan Companionship Program aims to provide long-term volunteer companions to the underserved senior community on a one-on-one basis. Founded originally by Randy Yeh in China and brought over to the Chinese Community Center with the help of board member Frank Chou, this program has seen success in other countries such as India and has continually grown with the model, "serve with love". Volunteers interested can read more about the program and apply below.
GOAL
Encourage all individuals of varying backgrounds to engage in community service. The goal is to meet social needs of seniors and to provide a high quality volunteer experience that will enrich lives.
OUR SENIORS ARE
VOLUNTEERS MUST
Be 18 years and older
Be willing to complete background check
Have reliable access to transportation
Be able to commit to twice a month visits for a year
Apply to be a volunteer today! CLICK HERE
Facebook: https://www.facebook.com/WanYuanProgram
For more information contact: Jenny Xi, MPA | jenny@ccchouston.org | (713) 271-6100 ext. 205
The Senior Companionship Program is supported by the New Path Foundation.