Citizenship Classes
Citizenship Preparation Class:  To provide high quality, goal driven English language instruction to eligible individuals to gain the language skills necessary to successfully pass their citizenship interview and exam.
Requirements: (1). Attend registration and pass a placement exam . (2). Be a permanent resident (green card holder) who is eligible to apply for citizenship within one year.
Please Bring: (1). LPR card (Green Card) . (2). A TX driver's license or Identification Card
Fee: The class and all related materials are free of charge thanks to support from the U.S. Dept. of Homeland Security
Registration: to request a registration appointment please click here.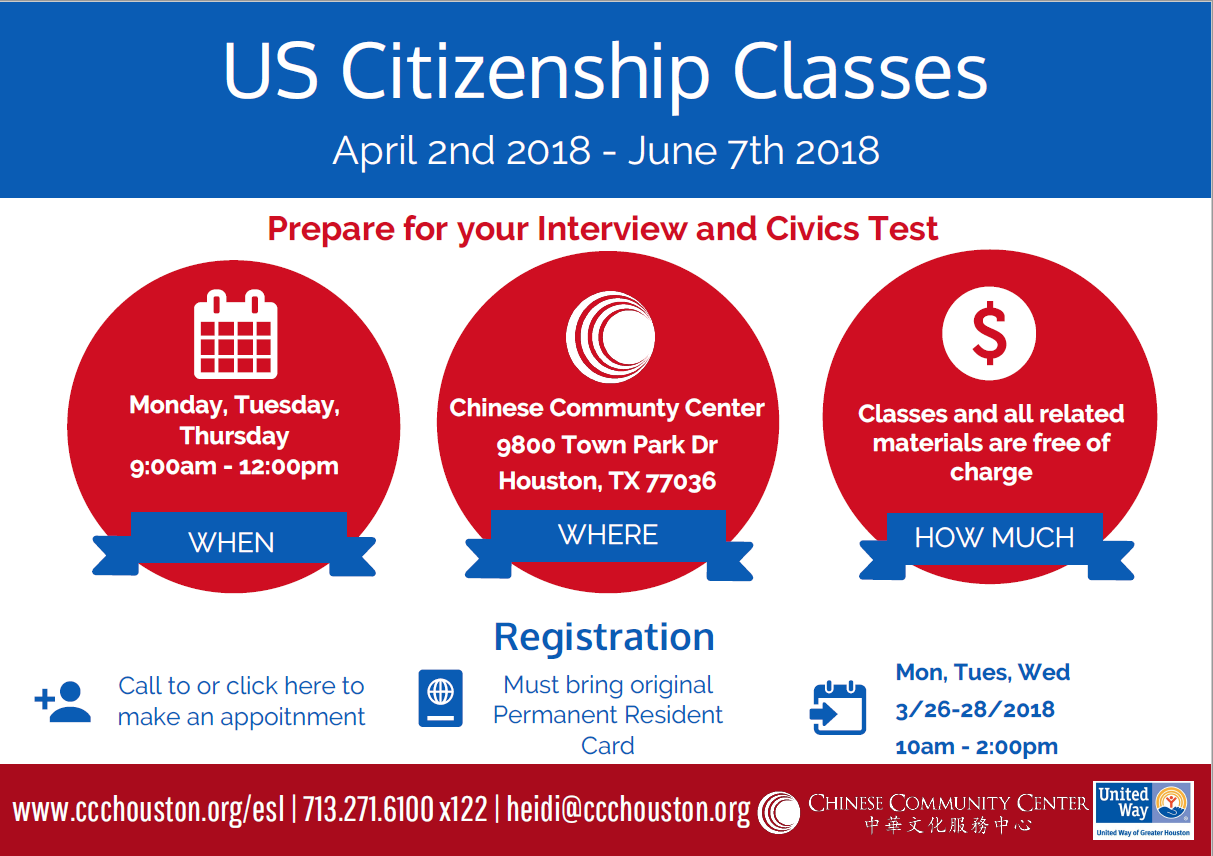 To learn more, please contact:
Chinese/English:
Aly Arnold| aly@ccchouston.org | 713-271-6100 x 203 or Linda Yang | linda@ccchouston.org | 713-271-6100 x 112
Spanish:
Marta Ramos | marta@ccchouston.org

ESL Program
Adult ESL Program Mission Statement:  To provide high quality, goal driven English language instruction to eligible individuals to gain the language skills necessary to be self-sufficient, adapt to life in the U.S., and contribute as a productive member of society.
Requirements: (1). Attend registration and take a placement exam
Please Bring: (1). ESL: Social Security Card & Driver·s License OR Passport.
Fee: (1).Pay $20 registration fee, students must buy their own books $25-$35 average cost.
Class Information: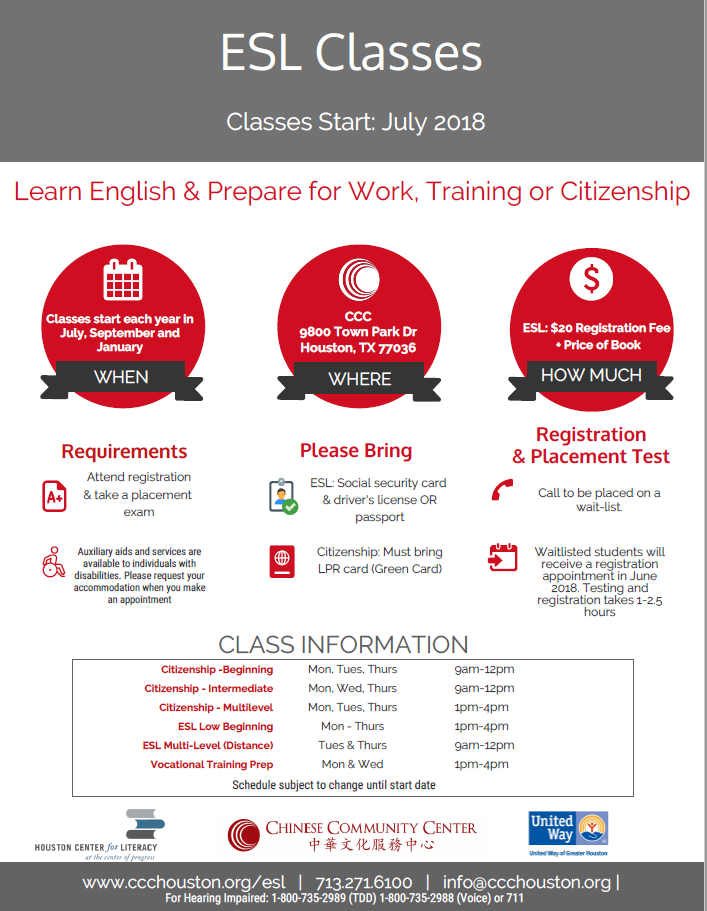 To learn more, please contact:
Chinese/English:
Aly Arnold| aly@ccchouston.org | 713-271-6100 x 203 or Linda Yang | linda@ccchouston.org | 713-271-6100 x 112
Spanish:
Marta Ramos | marta@ccchouston.org
TESTIMONIALS
How My English Class Helped Me
As the class comes to an end, I know my English has improved a lot. I can fill a check, find out about community services, talk with my neighbors, order food in restaurants, and know how to interview for a job. I have learnt how to make financial planning and take precaution against identity theft, also I have studied to keep body and health care, stayed wellness, using medications safely. Before I registered in the program, I could not do this.
The class has helped me a lot in my work. Now I can talk with my patients in simple sentences, make appointments, read medical papers, understand and submit medical bills to insurance companies. In the future I want to obtain a promotion and increase a pay due to improved English.
Through this class I have made some progress in English. It has motivated me and I am interested in learning more English, I want to complete the book 3 at CCC. In the future my goal is to take a class in medical terminology at CCC.  –Jiangping

My ESL Class
My ESL class began on September 22nd, and it will end on December 9th.  It has been a new experience for me to attend an ESL class in the United States.
When I was in China, I studied English for a few years. In China, my teacher taught us English in English and Chinese. But in my ESL class, my teacher teaches us only in English. When you don't get it, you can use a dictionary. In China, the teacher used Chinese to translate for us. This ESL class has helped me to review my English. For example, my teacher taught us the present perfect and helped us to go over it again and again, that helped me to remember it a lot.
As a new immigrant to this country, attending this class is a good chance for me to talk with other people in English. In my class, we read articles together or read one by one. And I practice conversations with our classmates. All of these have helped us improve our oral English. Although, in our daily life, the conversations are harder than we practiced in class, but as long as we practiced more, we will become better and better.
In addition, doing the class, I have gotten a lot of information. For example, we have learned how to talk and what to do in a job interview. And, we have learned how to write thank you letters. I love learning this, because in China. We don't need to write thank you letters. But here, we need to write, so this part helped me do well when I try to find a job.
All in all, this ESL class helped me to adapt to my new life in the USA, I appreciated it so much.  –Qianxin

My Second Country
The United States of America became my second country when I escaped from Vietnam communist to the freedom of this country.
I came here with nothing in my pocket, I knew a little bit of English. It was very difficult to live here. I attend Houston Community College and learned mechanic from 1976 to 1977. After I finished the class, I got a job as a mechanist.
I worked hard earning to take care of myself and help my family still living in Vietnam.  Time passed quickly, after thirty years of working, It was time for me to retire. I had a lot of free time and I need to find something to do. I was very bored and lonely.
One day I saw on the board at the Hong Kong supermarket an ad from Chinese Community Center about ESL class.    I thought study English would be a good idea. I decided I will go there, and enroll in a class. Maybe I will have to get used to the new life here, I studied hard every day.  I'm going to finish this school after two more courses. I have been studying English harder these days, but my English has gotten a little bit better.
I have learned many things. The course taught me how to talk at a drugstore, write a letter to a friend, talk at the airport, hotel, restaurant, shopping, a trip, and make a reservation, make an appointment, visit a doctor, go to the band and so on.   Now my English is better than before, I hope I can look for job through the Chinese community center so I can earn more money.
In the English class I studied how to live well and safety from a police officer, it is necessary for living.  I have only a few more days before I will finish school this year. The class was very interesting.
I hope will attend more courses and learn more at the Chinese Community Center still help about finance.
I thank my teachers for working hard to teach us and the employees of Chinese Community Center.  –Luu

Building Confidence
During studying ESL night class, I feel more comfortable to talk with my clients, also I am more easier to understand what my customers said, who spoke in English only. Moreover, I feel more confident to answer the phones. Now I can easily deal with the commercial advertisement phone calls, and keep away those phone calls from my boss.
For personal, I was successful to make my internet bill down by speaking with the representative on phone in English. I think I spoke English at least half an hour and up constantly. I can clearly speak out my purpose and the representative got that.
In educational part, I made progress my speaking skill from level six to level eight on the test.
I'm so grateful my teacher's efforts to make me have a big improvement English.  –Mengyu

My English Class
In the end of September, I registered on ESL class at the Chinese Community Center and after that I think I like it.  This class has taught me a lot about how to speak correctly and improved my pronunciation. When I came from Vietnam, in my country I learned British English and here everybody uses American English. It is different.
My teacher and the staff at this center taught me how I can get a job and gave me several experiences about the health, laws, traffic, community and safety; many things we find in daily life of an American.
Here everybody is very nice and friendly and my teacher always patiently teaches me. She makes us practice English more and more keeps me excited. And now I feel my listening is better, I think I am more confident than the first time I came to class.  –Chau Thi

Learning English
This story is about how I found a job in the U.S. I came to the US two years ago. I did not speak English at all, and I didn't have a job. Everything was new to me.
The first thing I did was to go to Chinatown ESL school, and registered for free English class. I wanted to learn English. In class, I made a lot of friends. I went to school every day, and I learned not only English, but also the US culture from my teacher and classmates who had been here for a while. It was school who gave me more and more interest to know this different world.
The more I learned, the more I wanted to do more things to join the society. I started to go to work for free in Tzuchi, a Chinese charity organization. I wanted to learn as much as I could, as fast as I could. One year later, Tzuchi opened a kindergarten, and they knew I was a kindergartner teacher in China, and because I always went to work for them, they hired me as a teacher for those cute little kids.
Go to school to learn English and the culture, and go to join the social activities, this is what I tell people who are new here, because this is how I succeed to learn English and to find my job.  –Quan Quan

*Some testimonials have been lightly edited for spelling.