About Financial Opportunity Center
Alief Financial Opportunity Center (1 of 5 Houston FOC centers) is career and personal financial service center that focus on the financial bottom line for low-to-moderate income individuals.  This means changing people's financial behavior in a way that encourages them to make a long-term commitment to increasing income, decreasing expenses, and acquiring assets.  Financial Opportunity Center provides families with services across three areas:
Employment Placement and Career Improvement
Financial Education and Coaching
Public Benefits Access
The Financial Opportunity Center model integrates these core services and provides them to clients in a bundled fashion.  Offering the services as a bundle is a holistic approach where the individual services reinforce each other and provide a multi-faceted approach to income and wealth building.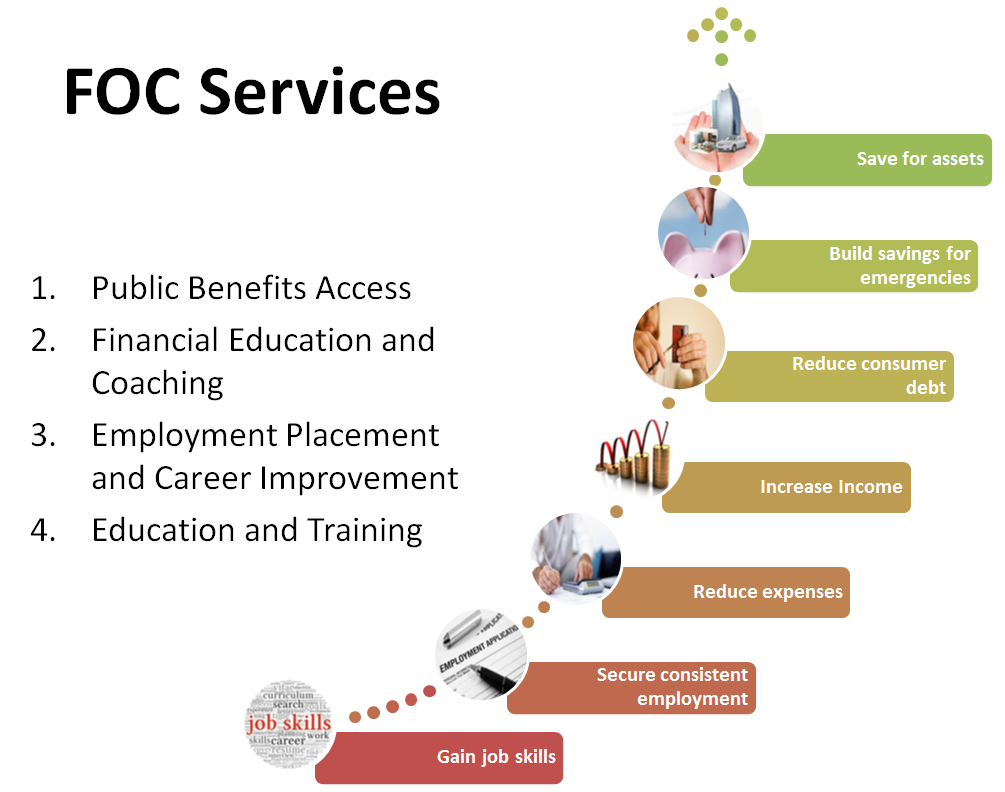 Financial Opportunity Center offers public benefits screening and application assistance.
For more information: CLICK HERE
Frequently Asked Questions
Can you help me find a job?
As an FOC client, you will have opportunity to work with our employment coach who can help you craft a job search strategy, edit your resume, and improve your interviewing skills. We provide job referrals when we receive open positions from employers that match your qualifications and expectations. However, remember our primary goal at the FOC is to help you be as prepared as possible to find a job, not to find a job for you. We expect you to put in 100% effort in your job search.
How do I become an FOC Participant?
The first step towards becoming an FOC participant is to attend the Orientation Session.  We have Orientation on the second and fourth Monday and Tuesday of each month. Please remember both the Monday and Tuesday sessions are required for all participants.  For the first day of Orientation please bring your ID, proof of eligibility to work in the US (such as a social security card or proof of immigrant work authorization), and a pen.  To register for an upcoming FOC Orientation, please fill out the form here. All registered attendees will receive a reminder email the week before Orientation.
Do I have to pre-register for FOC Orientation?
No, walk-ins are welcome, but please arrive by 9:30am.  Those that pre-register will receive a reminder email.
Should I bring anything with me to Orientation?
For the first day of Orientation please bring your ID, proof of eligibility to work in the US (such as a social security card or proof of immigrant work authorization), and a pen.
I'm interested in a vocational training program, how can I sign-up?
The FOC program is the umbrella program over all of our job training classes, so we encourage job seekers who want to learn more about available training to attend an upcoming FOC Orientation Session. All our classes are either grant-funded. Having your name on an interest list means that you will receive an email from us when a class and information session becomes available; it does not guaranteed a spot in the class. For more information on our vocational training programs, click on the "Job Training" tab.for more information.
How do I become part of THRIVE program?
United Way THRIVE is a city-wide network of social service providers that assist community members with employment and financial services. CCC is one of those providers and we assist community members through our Financial Opportunity Center, our Housing Program, as well our Financial Capability Program which provides one-on-one financial coaching to non-FOC participants. If you are interested in our THRIVE services and are not sure which of these programs is the best fit for you, please contact Esther Liew at esther@ccchouston.org or 713-271-6100 x 130 for more information.
Videos
CCC's FOC Video
LISC's FOC Video